Features of EDB to NSF Converter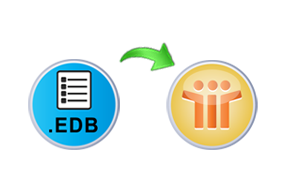 Convert Exchange EDB File to Notes® NSF
The software specializes in EDB to NSF file conversion. In this process, it transfers mailbox and public folder data from Exchange EDB files and gives option to export them to Notes NSF file.
All objects of Exchange mailbox and public folders will be migrated with conversion
The software retains all properties of the messages (metadata) and its attachments
Data can be extracted from EDB file even if Exchange Server is not installed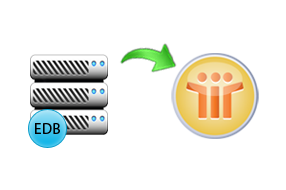 Saves Exchange Database into Separate NSF file
The software for EDB to NSF conversion generates two different NSF files to access Exchange data in Notes®. Database and other settings of Lotus Notes get saved in different NSF file and the software generates NSF file for email data and contacts.
Contacts for Exchange mailbox will get saved in separate names.nsf file for Notes
For emails and other data, EDB to NSF converter creates separate NSF file
Different data files for Notes help in categorization of database extracted from EDB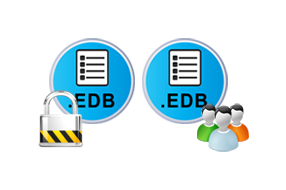 Works on Any Type of Exchange EDB File
The software can process EDB to NSF conversion on corrupt, inconsistent, or dismounted EDB file. The tool acts as a recovery solution for EDB mailboxes and shared data by restoring Exchange database into Lotus Notes NSF file.
By default, software performs quick scan on selected EDB to extract data from it
If EDB is severely damaged, software offers Advance Scan option for recovery
Data from public and private folders can be recovered with EDB to NSF converter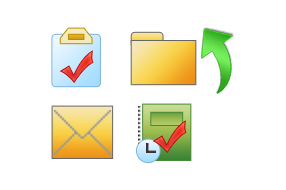 Selective Items/Folders Export Facility
If selective items or folders from EDB file are to be converted, software gives provision to do so. Enable the check boxes for items, mailboxes, or folders to be migrated and click on NSF button in the menu bar.
Multiple EDB files can be converted to NSF file in one go with the tool
Preview EDB file content within software interface after scanning process
Software generates an export report with count for number of items migrated
Exchange EDB to NSF Migration Working Guide
Manual Guide
View the online manual guide of EDB to NSF converter tool while executing the process. Also, it help users if they find problem on any option of the tool.

» Screenshots – EDB to NSF
EDB to NSF Converter Freeware: Download for Test!
To examine working and potential of EDB to NSF file conversion tool, you can download its free trial version. The version for test have option to add, scan, and recover EDB file data activated but restricts exporting them to Notes NSF file format.
Trial Version Limitations: Free version of EDB to NSF Converter load, scan and generate preview of all the EDB mailboxes. To deploy the full functionality, you need to Purchase it.
EDB File should be offline or dismounted
Windows 10, 8.1, 8, 7 users need to initialize the tool as "Run as Administrator"
Lotus Notes: Lotus Notes 9.0, 8.5, 8.0, 7,0, 6.5 and 6.0 edition installation is required and should be Offline or not connected with Domino server.
Support Editions »

Windows OS: Windows 8, 2007, Vista, 2003, XP, 2000, ME, NT, 98 & 95
Lotus Notes: 9.0, 8.5, 8.0, 7.0, 6.5 & 6.0
Exchange Server: Exchange Server 2013, 2010, 2007, 2003, 2000, 5.5 & 5.0