Features of EDB to Office 365 Migration Tool

Export MS Exchange Mailboxes to Office 365
The tool is versatile enough that it easily converts multiple mailboxes from MS Exchange to O365. The utility even renders the users with option to transfer mailbox to desired MS Office 365 users account via mapping option. In addition to it, the tool has a brilliant interface that makes it compatible with all Windows Operating Systems be it the newer ones or the latter ones.

Option for Mapping Exchange Mailbox Provided
Using the Exchange to Office 365 migrator tool, users can import and store the data of a mailbox to other O 365 user account. The mapping of the folders is done using the credentials for every single user related to the Exchange Mailbox respectively. Additionally, the tool has a robust structure along with a marvelous designing algorithm that makes it a stand-alone utility.

Import Desired Items from MS Exchange to O365
The software permits users to export all the necessary items of Exchange Mailbox to Office 365 i.e., mails, address books, to-do lists, tasks, journals etc. But, users can even check/uncheck the items and opt for the desired items to be exported to 0365. By this option only desirable mailboxes are transferred from Microsoft Exchange to Office 365 rest all can be discarded by the users as per requirement.

Interface to Apply Date Filters while Exporting Mailboxes
If a user need to transfer data from EDB to Office 365 of a particular data, he/she can do it easily using the tool. The software provides option to use specific date range like To and From. Once you apply the changes and save it, you can easily migrate the mails of that period. This feature is only applicable for mails rest all the items are converted completely without any hassle.
Import EDB to Office 365 - Working Guide
Prerequisite:
Microsoft Outlook must be installed and should be configured properly for any valid or dummy profile/account.
Admin account of Office365 must have Office 365 license assigned, you must be able to access OWA for admin.
Admin account of Office 365 must be impersonated.
If you are using Windows 10/8.1/8/7 or Vista, then please launch the tool as "Run as Administrator".
---
First of all download the Exchange Migration to Office 365 Software. Afterwards, launch the setup in your device. Add the desired Files.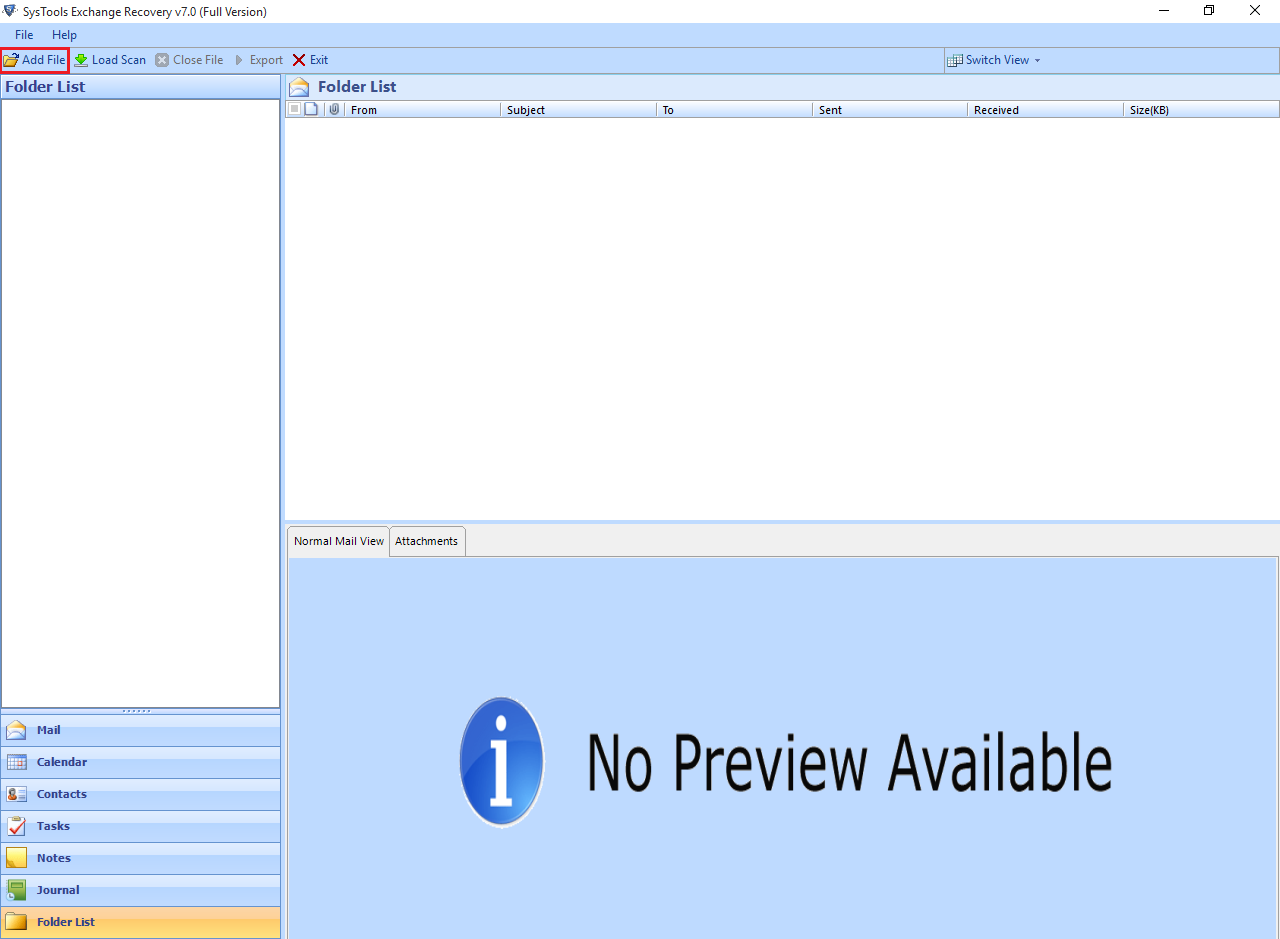 ---
The tool shows EDB data items. Select Export Option.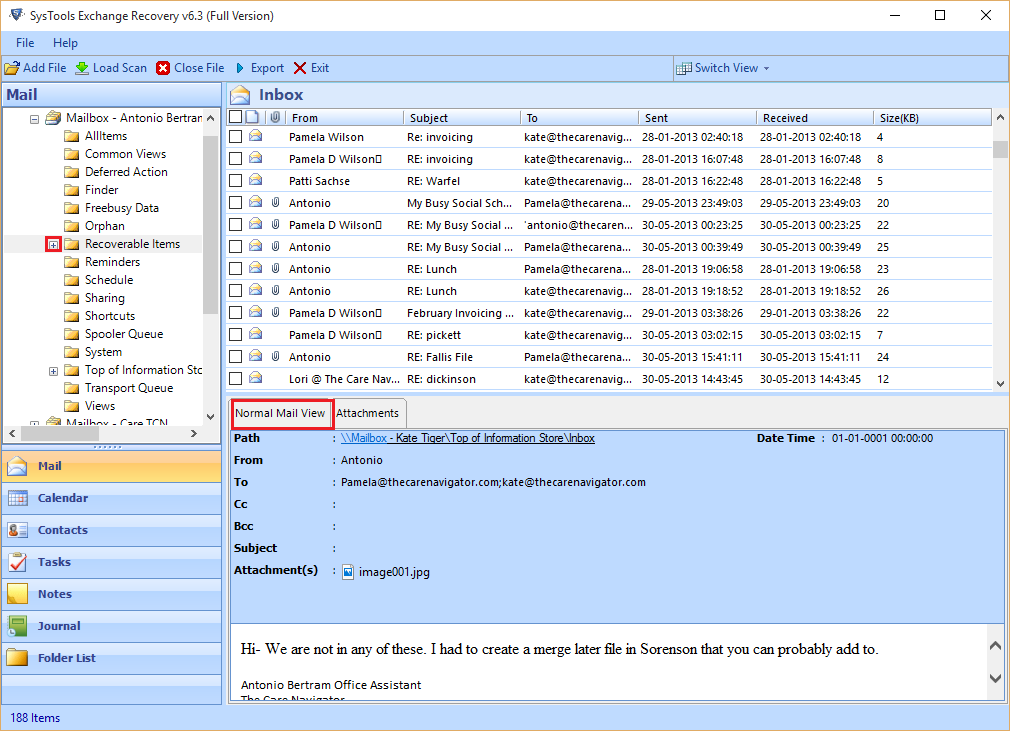 ---
Once you hit on the export option, you will have to choose the desired mailboxes. Select Export type as Office 365 to import EDB to Office 365.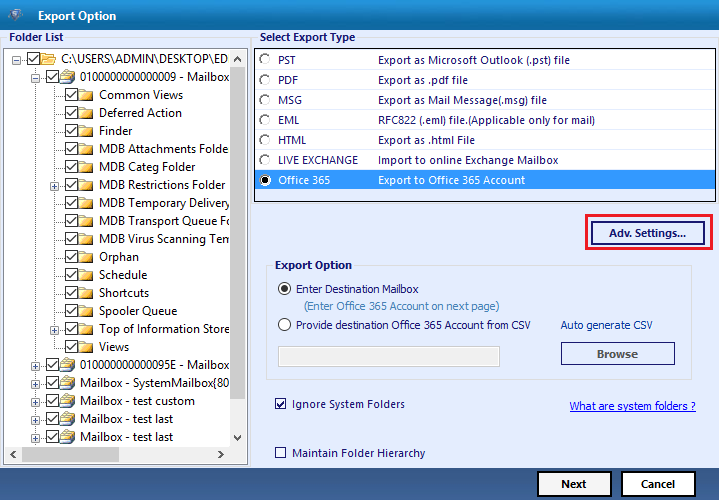 ---
In case, you want to export mailboxes to multiple user accounts, you can use impersonation. If not selected Impersonation feature, you need to provide Account name and password.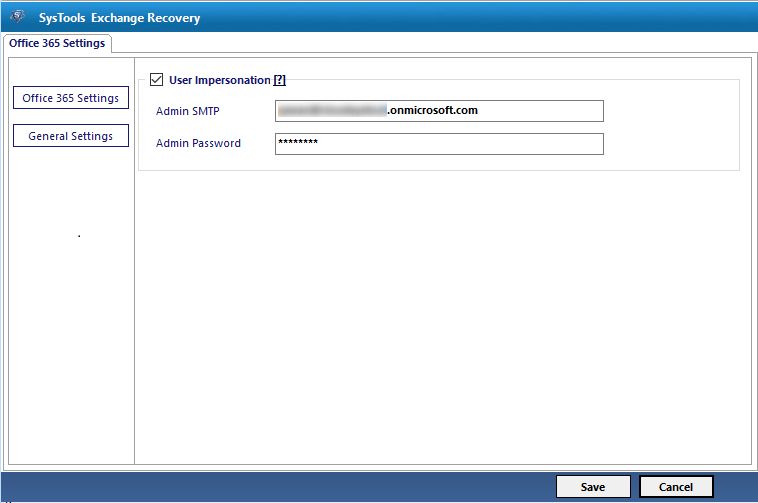 ---
Enter Date in From Date and To Date options to migrate emails of a certain time period.
---
Enter the destination mailbox. Select Next. Either you can opt for provide destination of O365 account from CSV option.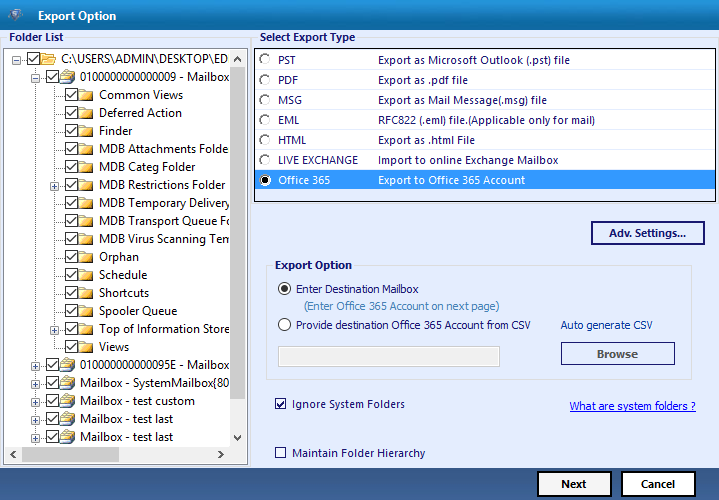 ---
In case, you have used Impersonation, then you does not require password but username to begin the Export process.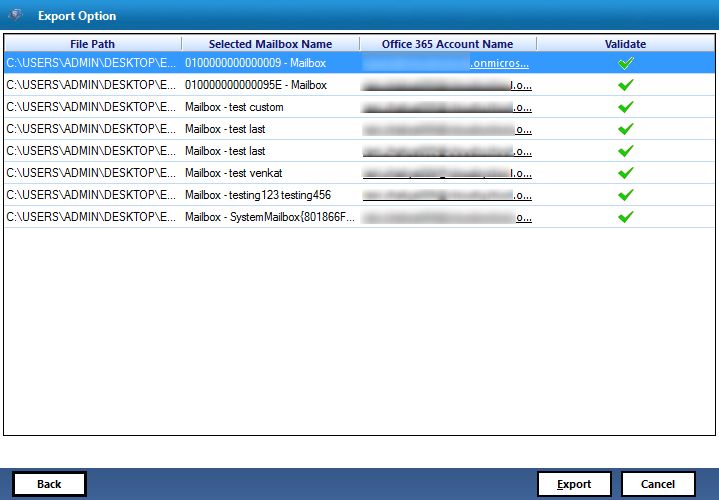 Trial Edition- Download Exchange to Office 365 Migration Tool
To understand the tool briefly, you need to download the setup in your machine and then launch it. After launching and accessing Exchange to O365 Migration Software, you will understand the program in a better way. Download Free trial!
Note: Click on the below button again if the download not automatically after clicked on the above download button.
Trial Version Limitations: Export Only 25 items per folder from Exchange Server EDB Database.
Support Editions »

Windows OS: Windows 10, 8.1, 8, 2008, Vista, 2003, XP, 2000, ME, NT, 98 & 95
Exchange Server: Exchange Server 2016, 2013, 2010, 2007, 2003, 2000, 5.5 & 5.0