Recovery Tool for Exchange
Advance Tool for Exchange Server EDB Database Repair, Recovery & Conversion
Exchange Recovery Software is the best Solution for Exchange Mailbox Recovery, EDB to PST Conversion and Export EDB to Live Exchange Server or Move Selective Emails to EML, MSG, HTML & PDF File Formats. Exchange Recovery is designed with purpose to repair business-oriented EDB data. Tremendous backend algorithms of the tool are helpful to deliver accurate results after finishing the message data recovery.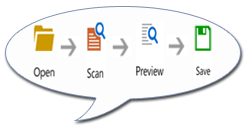 Four Steps For Recovery
It is possible to fix corrupt Exchange database or errors using this single console. Open, browse, scan, and export, these four options are available for recovery of Emails, tasks, calendars etc from inaccessible Exchange mailboxes. Most of critical errors for Exchange Server impacting message-level data inaccessibility will be eliminated with one time use of tool. Offline, Dismounted, Corrupted, Inaccessible, EDB can be repaired in one go.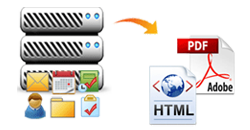 Get Exchange Emails into 2 New Format HTML & PDF
Now with updated version of Exchange Recovery Software, users can recover and convert emails from Exchange mailbox into HTML as well as PDF file formats.As if you have Exchange emails in HTML format then you can easily access it with any browser without any difficulty. PDf format is OS independent format i.e. you can open Exchange emails into any OS version whether its Windows, Mac or Linux.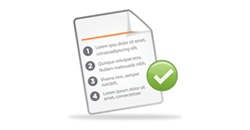 Option to Search EDB File & Saves Scan Report
Now updated version of Exchange email recovery software will provide option to detect the EDB file stored in your machine. One more lucrative feature of save scanning report is added in the software, so whenever you scan EDB file it will ask you to save the report, so that next time if you scan EDB file it will ask you whether you want to scan the same file and if you press yes then it will scan the file quickly.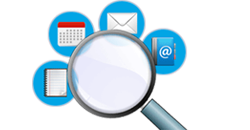 Advanced & Quick- Scan Modes to Restore Database
This EDB to PST conversion tool has two options of Exchange mailbox scan, options are elaborated as:
Quick Scan (Instant scan to restore or extract mailbox from EDB quickly along with email preview)
Advance Scan (In-depth recovery of database when Quick scan option is not helpful)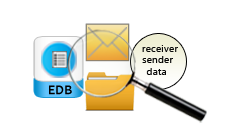 Email Data Preview At Right Panel
When the database scanning part gets completed, all details within emails can be viewed at the right most panel of application. It is fruitful to find and read Exchange database EDB details all the time. So, user can check out the information of mailbox components anytime. So, before starting the conversion procedure you can simply check the preview of data in the right panel.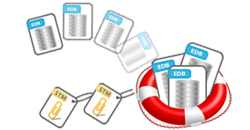 Add Multiple EDB Files In One Go
Offline email recovery for various mailboxes within an Exchange Server is possible with this database repair tool. For adding distinct EDB files at once, click on "Add EDB" tab, the tab is placed at topmost within menu bar to minimize the searching time of the users.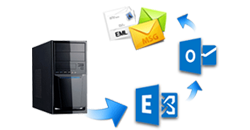 Distinct File Formats For Data Restore & Export
Repaired EDB emails from various mailboxes can be converted into PST, EML, HTML, PDF, MSG amd also to live Exchange server. As Exchange EDB to EDB transfer is also added into email export options so that if users want to switch between Exchange server versions they can easily perform this task.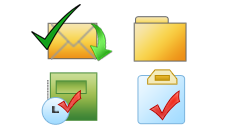 After Repair, Perform Single Item Export Process
The list of emails, task, calendars, contacts, etc at the right panel of EDB to PST conversion application offers facility to select single item for export. To do this, right click on particular item and choose one option from enlisted options. So if you don't want to export your entire mailbox from Exchange server then you can easily select the required emails and migrate it.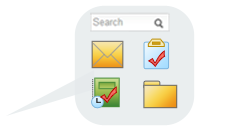 Categorize Items At Left Panel
Distinct categories (Emails, tasks, calendars etc) for various items at the bottom-left panel will assist to search relevant information. Single click on the respected one will show matched items, so that it won't take much time to find the required information. This option is added in this EDB repair software to ease the selection process for users.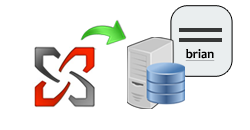 Exchange to Exchange Migration
After recovery of EDB files containing multiple mailboxes if users want to move Exchange EDB to new server then, Alias name for destination mailboxes is needed to specify. It is required to map repaired EDB emails from Exchange mailboxes to new mailboxes. You can even migrate mailboxes from older Exchange server to latest Exchange 2013 version without any trouble.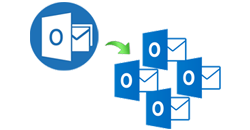 Split Oversized PST Files
If newly created Outlook PST file approaches to size limit then, EDB extractor tool will help to split PST file into multiple parts. Permitted size limit to divide PST into pieces with this EDB to PST move tool is 1 GB to 45 GB. So, no more problem of file size limitation of Outlook if your are moving mailbox data from Exchange server into Outlook platform.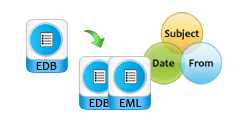 Manage Single Email With Naming Conventions
For EDB convert to EML and MSG, the tool is added with naming convention option. One option can be easily opted from long list of seven options for managing EML/MSG email messages. So, now users can export selective emails to Outlook regardless of the complete mailbox. Maintain single emails by modifying naming convention as per the need.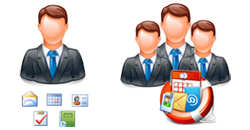 Restore Desired Mailboxes Only
After recovery of EDB file that holds multiple mailboxes, one may have requirement to export few mailboxes only. Select desired mailboxes and internal folders to be stored at the destination location using mailbox selection option added into this Exchange database recovery tool. So to make the task of conversion easier for users, an option to select required file is added in the software.
Steps to Export EDB file into PST, MSG, EML, PDF, HTML and Live Exchange Server
To Check Complete Steps of Exchange EDB Recovery & Conversion – Click Here
Export Exchange Mailbox to PST
View here, how to split a large EDB file into several small parts before converting into PST format.

» EDB to PST Conversion Video

» Steps to Restore Exchange to Outlook
Convert EDB to MSG
Know here how to repair EDB file and then migrate emails into MSG file format instead of migrating entire mailbox items.

» Online Video of EDB to MSG Conversion

» EDB to MSG Migration Steps
Convert EDB to PDF
Click here to explore complete steps to convert Exchange emails into Adobe PDF File Format.

» Video of EDB to PDF Conversion

» Steps to Copy Exchange EDB to PDF
EDB to EDB Conversion
Check here complete process to repair corrupted .edb fiile and then migrate mailbox from one Exchange server to another server.

» Video of EDB to EDB Migration

» Steps of Exchange to Exchange Conversion
EDB to EML Conversion
Below given are the detailed information about the overall procedure to restore EDB into EML format.

» Video of EDB to EML Migration

» Steps to Convert Exchange EDB to EML
Convert EDB to HTML
Check here step-to-step process to migrate emails from Exchange server into HTML file format.

» Video of EDB to HTML Conversion

» Steps of Exchange EDB to HTML Conversion
Trial Edition - Download
Being aware about all steps within Exchange to PST conversion tool, it is suggested to install and run free Exchange Recovery tool by own. The tool will permit to convert only 25 items from each Exchange mailbox but, this restriction is not a big concern because, you will learn & view entire process to browse, recover, and again restore EDB files in healthy format.
Note: Click on the below button again if the download not automatically after clicked on the above download button.
Trial Version Limitations: Export Only 25 items per folder from Exchange Server EDB Database.
System Requirement »

Processor: 2.4 GHz is Recommended
RAM: 1 GB is Recommended
Disk Space: 60.6 MB of Free Hard Disk Space
Application: MS Outlook Installation Required
Support Editions »

Windows OS: Windows 8, 2007, Vista, 2003, XP, 2000, ME, NT, 98 & 95
MS Outlook: Outlook 2013, 2010, 2007, 2003, 2002, 2000, 98 & 97
Exchange Server: Exchange Server 2013, 2010, 2007, 2003, 2000, 5.5 & 5.0
Update to Licensed Edition
Upgrade to Paid Version to Avail Unlimited Benefits & Uniterrupted Services
Feature
Option to Choose & Browse Multiple EDB
Public or Private Folder Support
Normal or Advance Scan Mode
Check Preview of Emails, Address Book, Calendar, Task etc
Select or Un-Select Option for Mailboxes, Items or Folders
Export Individual or Multiple Emails into Distinct Formats
Supports Exchange Server Edition 2013, 2010, 2007, 2003 etc
Supports Win 8, Win 7 & Other Windows Versions
Supports Outlook Edition 2013, 2010, 2007, 2003, 2000, 98
Split PST: Split PST between 1GB to 45GB size
Save as PST: Extract Mailbox items into PST
Save as MSG: Convert Emails to MSG Format
Save as EML: Export Emails into EML Format
Save as PDF: Export Emails into PDF Format
Save as HTML: Export Emails into HTML Format
Save as Exchange: Restore Mailboxes into Live Exchange Server
Freeware
25 Item Per Folder Only
25 Item Per Folder Only
25 Item Per Folder Only
25 Item Per Folder Only
25 Item Per Folder Only
25 Item Per Folder Only
PL

Personal License

CL

Corporate License

TL

Technician License

EL

Enterprise License
Frequently Ask Questions

Do I need MS Office Pre-Installed on the system where I want to save the converted PST files?

Yes, MS Office should be installed on the Windows OS where you want to save the converted PST file, using Exchange Recovery software.

Can I save some email messages as 'EML' or 'MSG' files using this tool?

Yes, Exchange Recovery software provides option to convert EDB mailbox data to multiple file formats such as: EDB to Outlook PST, EDB to Exchange EDB file, EDB to EML and also EDB to MSG. So that according to the selection of file format to export EDB data user can save email messages as EML or MSG also.

Does software support Exchange Server 2013 & Outlook 2013?

Yes, new version of the software successfully supports Exchange server 2013 and Outlook 2013 versions to export EDB mailbox data reliably.

Can I save recovered data through Free Demo version?

Yes, free version of Exchange Recovery software gives provision to save recovered data from EDB mailbox to the desired location for free. The only limitation with the free demo is that only 25 folders per mailbox can be extracted and saved for free, and to get complete recovery of data user need to purchase the full version of the tool.

Can I convert my PUB.edb using this tool?

Yes, the software supports conversion of 'PUB.edb' file to Outlook data files. However, this conversion can be done only in the offline mode. So take care to keep Exchange in offline mode before attempting conversion of Pub.edb folder to PST, EDB, EML or MSG format.
Testimonials

Moving PUB.edb folder to the Outlook PST file was an unresolved task as per my thoughts but later realized that 'Nothing is Impossible' if we use the apt catalyst for the restore process. Exchange Recovery tool works well with the scanning and data recovery process, my choice was to restore some emails to EML and others to Outlook PST and it is done- Thank you!!

» Dariena Kit, Dubai

Emails, calendar and contacts were what we want alive even after the Exchange to Outlook platform conversion. This recovery tool for Exchange is a highly sophisticated software solution that works without the trouble of data deletion or damage and the support executives that make 24x7 timing actually 24x7 is also worth appreciation. I like to rate this tool with a 5 star.

» Fisher Campell, France


Home
» Exchange Recovery Software